Are you looking for the top must-have Shopify apps to increase sales in 2023? Do you know where to start and upgrade the effectiveness of your Shopify store? If you want to enhance business growth through email marketing, add customer reviews, and handle shipping and checkout as well as it includes everything which requires to grow the online Shopify store.
We have the ideal Shopify apps to help you achieve your goals, whether they involve increasing traffic and sales to eight figures or streamlining your eCommerce operation to a professional level.
In this complete list, we will be covering Shopify applications to download or test in a range of areas, from cart abandonment to shopping experience apps.
As it is easy to access the internet nowadays, people find it more convenient to make online purchases. Hence, there is a sudden increase in the popularity of eCommerce platforms. And as we talk about eCommerce website building platforms, it would be wrong if we didn't mention Shopify.
According to stats released by the platform, there are 2,297 million active websites that are using Shopify. So if you are one of them or looking to increase that number by having a Shopify store, then this blog is especially for you.
This blog will discuss must-have Shopify apps to make your Shopify store more alluring, and interactive and add functionality to it, making it stand out from the competition.
You can skip ahead to one of these areas if your store has a particular need for it:
Read More: How To Send 1000 Messages At Once In WhatsApp?
Must-have Shopify apps for the Shopify store
Keeping the growing competition in mind, we have filtered these apps based on their usage, features, and pricing plans. And they stand as the best in their categories. These apps fulfill all the needs one should have for the Shopify store. They add charm to your website, help customers with their purchases, and assist you in maintaining brand-customer relationships. You can find these apps with ease and operate them with comfort.
1. GetItSMS: Bulk WhatsApp Marketing Shopify Plugin
GetItSMS: WhatsApp Marketing is one of the top must-have Shopify plugins for Bulk WhatsApp marketing and bulk WhatsApp messages can be used to increase sales in 2023. Using the GetItSMS bulk WhatsApp Shopify plugin is specifically designed to send bulk WhatsApp messages to customers to notify them about their purchases and product details.
The top Shopify bulk WhatsApp plugin is available with GetItSMS, which is also the comprehensive solution you've been searching for if you want to give your website excellent branding, a stunning visual, and a responsive layout. GetItSMS, which has received positive customer feedback and is available on the Shopify App Store, is one of the top Shopify applications for building websites.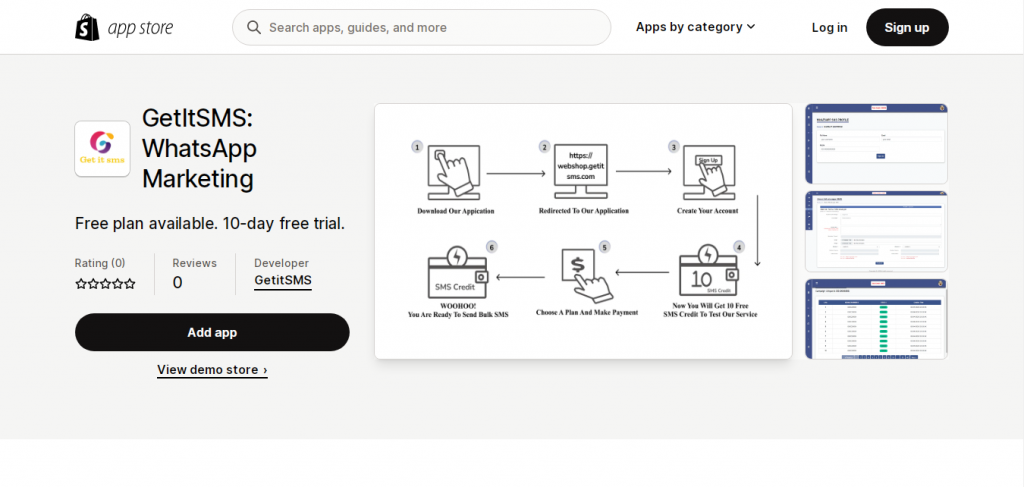 The GetItSMS plugin charges for your Shopify store is a free plan available for customers whereas if customers add more benefits to the plan, the basic plan starts at $9/month, and there is a yearly plan also available.
To know more about the GetItSMS Shopify plugin you need to know about the facilities it provides
Shopify business owners who use GetItSMS WhatsApp apps may stay in touch with their consumers.
Businesses that use Shopify may reach a large number of clients at once with product information thanks to WhatsApp apps and bulk WhatsApp marketing.
GetItSMS offers a customer chat service if clients need assistance with a purchase or have technical difficulties.
Specifically, the GetItSMS WhatsApp Shopify App offers WhatsApp Bulk Messages.
GetItSMS works seamlessly with 30 other Shopify applications.
a vast array of templates and components: More than 60 elements will help you get started quickly.
With so many capabilities, the GetItSMS WhatsApp plugin for Shopify is the way to go if you're seeking the top WhatsApp apps for Shopify plugins to boost sales in 2023.
Let's talk about some additional Shopify WhatsApp plugins, Shopify WhatsApp apps, and Shopify WhatsApp plugin for bulk WhatsApp marketing.
2. Instagram Feed by Tagembed
Tagembed is a well-known social media aggregator tool that helps users collect social feeds from different platforms and showcase them on the website. It is famous for its easy-to-handle interface and budget-friendly pricing plans, and it brings the same legacy to its Shopify app.
With this app, you can beautify your website to attract more visitors and create an everlasting impression on them. Not only that, it even increases the functionality of your store, as with the help of this app, embed Google reviews and displays to your visitors to purchase your product. And you can also add a "buy now" button to ease the buying process.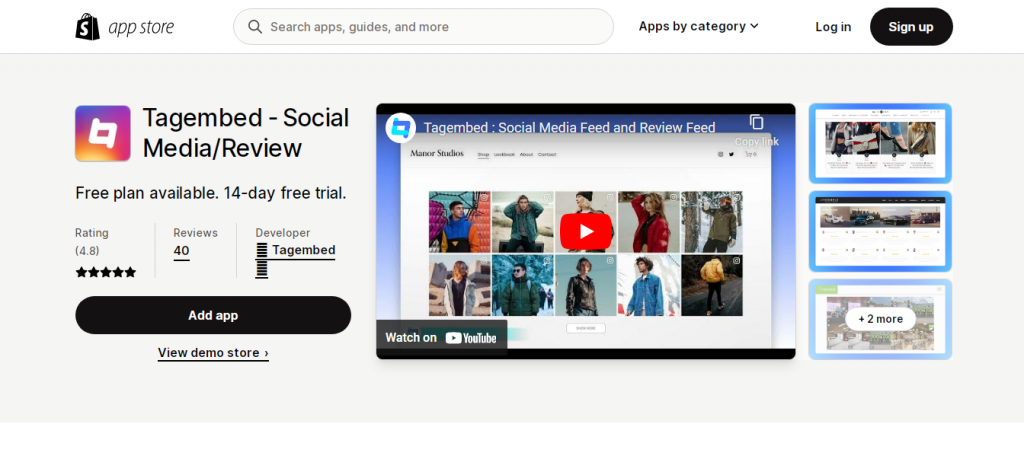 The app collects all the social media feeds from Facebook, TikTok, Pinterest, Instagram, Twitter widget, and more to display them on Shopify in just a few clicks. It is compatible with to display of all types of media without affecting the website speed and hence stands as one of the must-have tools for your Shopify store. For displaying the feed, all you have to do is collect the feed using the tool and, through its dashboard, place it anywhere you want. And as it is compatible with 18+ social media platforms, you have a wide range of content to display on your website and never feel a lack of content to display on your store.
Alongside easing the embedding process, it provides various other features that make it an ideal Shopify Instagram Feed app. Like, it provides you with a customization feature that allows you to personalize your social media widget. By changing the font size, style, and more, you can add grace to your widget and eventually increase the overall look of your store. Also, you have various themes and layouts as options, so you can select the one that best suits the style of your store and bring some uniformity to it.
With moderation, you can remove all unwanted and irrelevant content from the feed to maintain the store's quality and keep the feed related to your business. Custom CSS, analytics, and custom CTA buttons are some of the other major features of many. You can also avail of 20% off on all annual plans, with no coupon code required.
3. Order printer by Shopify
As the name suggests, this Shopify app helps you print invoices, labels, packing slips, and more. Although online shopping is one of the trusted sources, there can still be many stores that can indulge in fraudulent activities.
And to avoid them, people tend to ask for invoices. Making invoices can be a time-consuming process, but not with this app. With the help of this app, you can easily and quickly print custom packing slips, invoices, labels, and receipts. It also provides you with the facility to print bulk documents.
4. Ultimate Sales boost by Hextom
While running a store, it is important to keep track of the stock. With the help of this app, you can create a countdown timer and low stock countdown. It not only helps you in keeping track but also helps you to boost sales. Consumers are more likely to purchase products that have high demand due to fear of missing out. And when you put a product countdown timer, the same factor helps you encourage the consumer to buy that product. It also has shipping to get it by timer.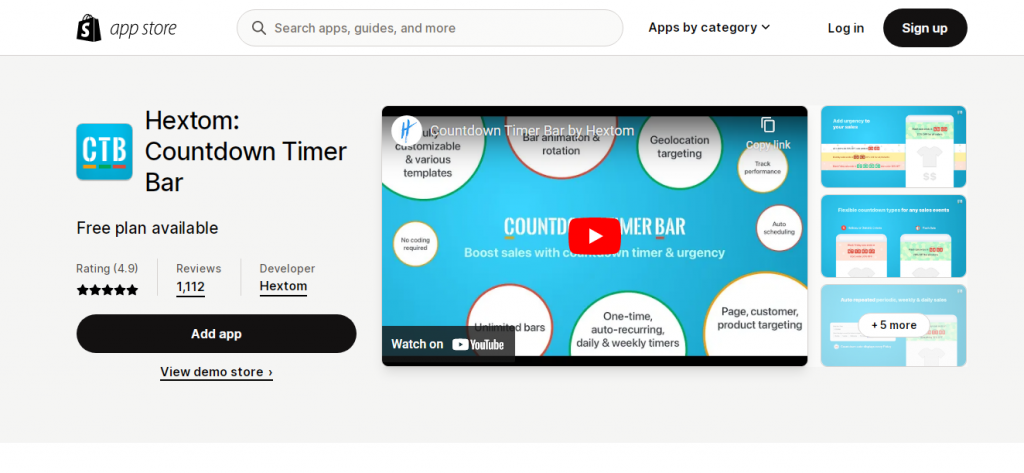 Not only that, but the app also helps you in displaying trust badges and social proofs. With these, you can prove credibility for your store and win the trust of your customers. We all know how important it is to win the trust of consumers to get sales.
5. Optimonk: Develops Personalized Popups And Optimize Customer Journey
The next Shopify app and Plugin is Optimonk which can be used to build personalized popups and optimize customer journeys. This Shopify plugin can be easily integrated with your Shopify store.
This Optimonk Shopify plugin is a powerful e-commerce popup tool that enables you to create popups the visitors would like. Optimonk helps to enhance the customer's online shopping experience to send them the appropriate information at the right time.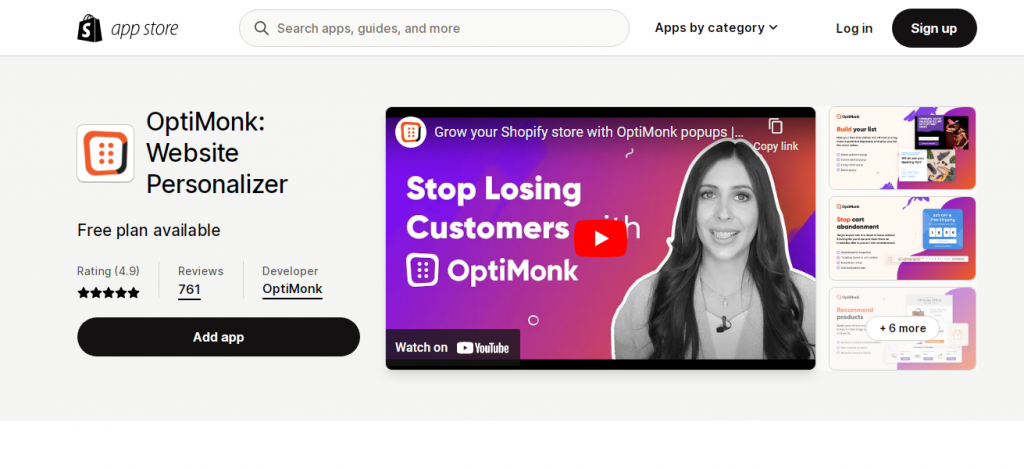 With the help of this Shopify plugin Optimonk customers have increased the sales and conversion rate by 37% with a lower cart abandonment rate of 20%. This Shopify plugin makes the process easy to create personalized popups, side messages, and sticky bars with fullscreen messages.
The key features of this plugin:
Drag-and-drop editor: Easily create customized messages without knowing any code
An extensive library of templates: With just a few clicks, create visually stunning popups for your Shopify store.
You can target popups based on traffic source, geotargeting, cart value, and other Shopify-specific conditions, among 30+ intelligent targeting and triggering options.
A/B testing: Optimize your onsite messages for maximum effect by testing different offers and messages.
Countdown timers: To increase the sense of urgency in your popup advertising, use a ticking clock.
Handle multiple campaigns with ease: Utilize the UX protection stack and the extensive campaign management capabilities to make sure that you won't upset your visitors.
Pricing: With the help of a free plan, you can get a free trial of the software. Paying plans start at $29 a month and you can make the changes in your Shopify store as per your subscription plan.
6. Privy: Shopify Plugin
The Shopify plugin Privy can be integrated with the Shopify store and it will be used for the email marketing and SMS needs for the e-commerce store. This plugin has almost 25000 reviews and ratings of 4.8. This application provides product announcements, brand newsletters, coupons, des, and abandoned campaigns along with follow-up reminders to bring repeat purchases.
But do you know what seems to stand out regarding the lightning-fast support they support? Hence this tool is responsive and also easy to use for beginners.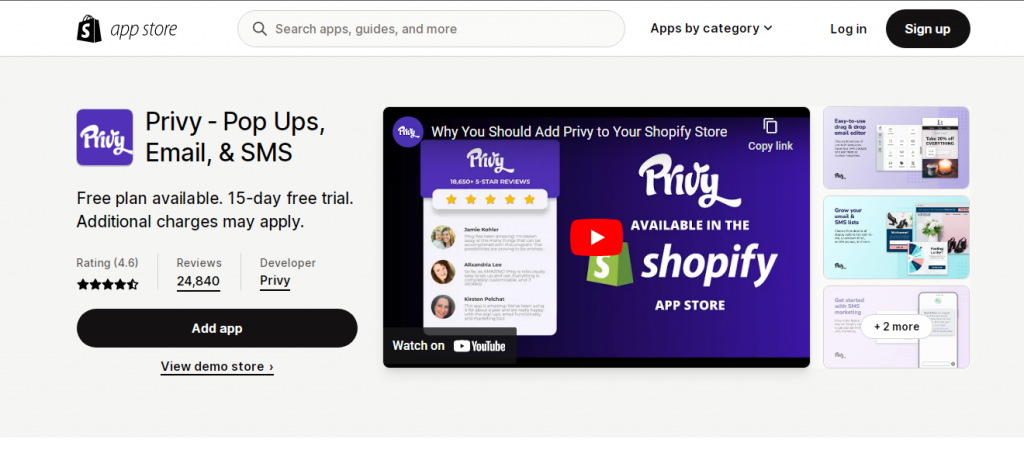 The key features of the Privy Shopify plugin as mentioned below:
This application has a very robust and Simple campaign editor
It supports the reminder messages and autoresponders to increase sales
Facilities have cart savers, flyouts, high-converting templates of popups, and more
Privy has Automated A/B testing
To boost the average order value it provides the free shipping bar
Integrate with Single-use & bulk coupon code
Best used for:
Use push alerts, SMS, and email marketing to expand your Shopify business.
incentives and pop-ups to increase sales
campaigns that were started based on behavior (time on page, exit intent, frequency of visits, etc)
Pricing: The subscription plans for the Privy Shopify plugin start from $15/month. Whether it has a free plan for up to 100 email contacts.
7. PushEngage
You may use the PushEngage Shopify app to send personalized push notifications to your visitors. By doing this, you may retrieve abandoned carts, interact with users again while they are on your website, and ultimately increase sales.
Since entering personal information like an email address or phone number is not necessary to opt-in to push notifications, more people are likely to do so.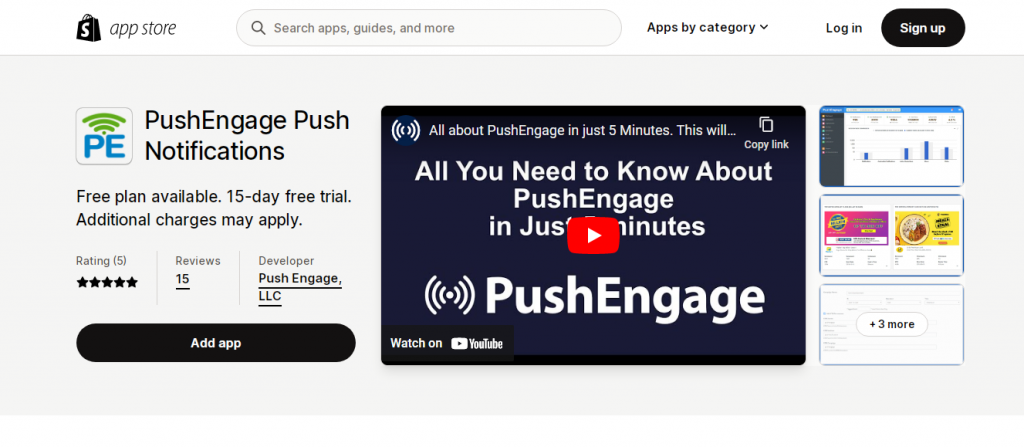 The finest feature is how simple it is to install PushEngage with just one click.
Rules for customizable opt-in displays
Options for flexible push notification design
Automatic cart abandonment notifications
Audience division
Simple setup without the need for coding
Suitable for:
generating interest
Keeping site visitors interested
Getting back abandoned carts
Pricing: To get you started, PushEngage offers a free plan with up to 200 subscribers and 30 campaigns. For up to 100K users, the pricing tiers begin at $9 per month.
Available on: BigCommerce, WooCommerce, the Shopify App Store, and all other eCommerce platforms
8. Yotpo
Another Shopify tool that can help you gather reviews and photographs and increase sales through a social proof is Reviews by Yotpo. You can set it up with a simple click, while assistance will be there 24/7 for you even with the free plan. Also, you can use the app to reward users who post reviews by giving them promo codes and vouchers.
The platform's automated flagging of bad reviews that need your attention is another nice feature.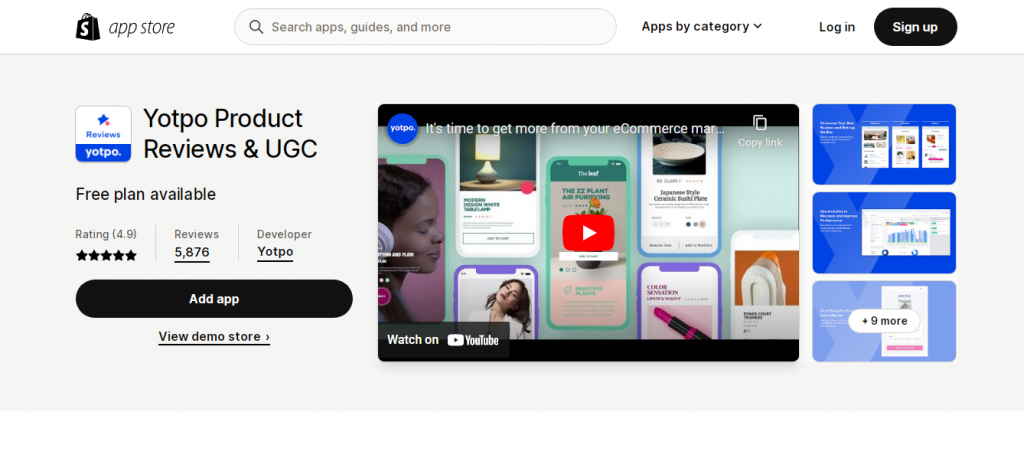 Important characteristics:
Moderating reviews manually or automatically with A.I.
Provide freebies to encourage people to submit reviews
Powerful analytics to turn client input into relevant data
and import recent rankings from well-known services (Judge. me, Loox, etc.)
Google Shopping advertising, Rich Snippets, and Google Seller Ratings
Suitable for:
Gather customer feedback, images, videos, and questions and answers.
Increasing brand awareness through search (official Google partnership)
Companies looking for a strong review feature tool
Price: Yotpo provides a free plan for their product. Paid subscriptions start at $15/month for enhanced functionality and more advanced features.
9. ShipStation
ShipStation is a fantastic shipping tool that allows you to quickly ship products to consumers and sync shipment updates. It makes managing several shipping orders at once less painful. The software manages order processing for your store, generates shipping labels, and notifies customers when their orders are being processed.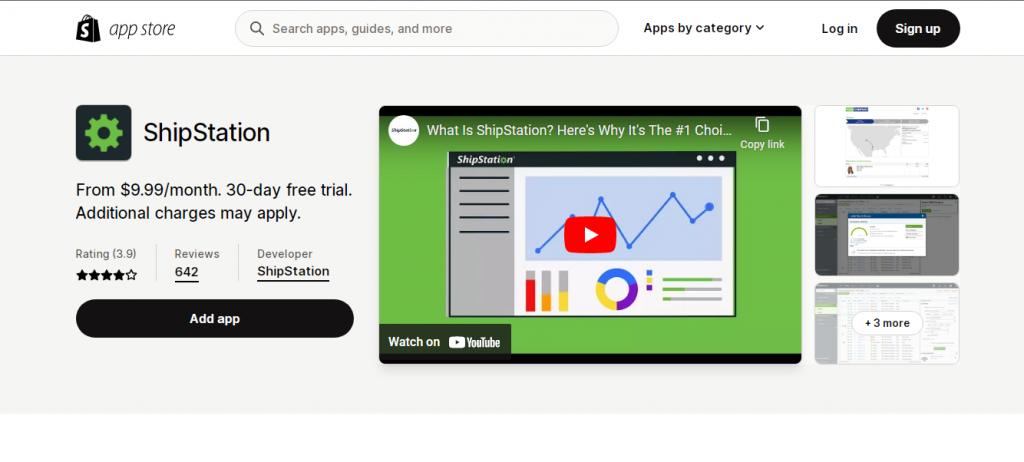 There are numerous options for global carrier services.
overseas shipping process made easier
UPS discounts plus steep discounts plus USPS discounts
Add more delivery choices to the checkout on your website.
Branded packing slips, labels, and shipping notification emails
Suitable for:
You can take advantage of its special offers with saving money.
Organize all of your order processing in one spot.
Price: To try out the platform, ShipStation offers a lengthy 30-day free trial. Paid plans begin at $9.99 per month after that.
10. WebPush: Recover Abandoned Cart
WebPush-Recover Abandoned Cart is starting to trend for a reason even if it is still a relative newcomer to the spotlight. It can provide you with an additional line of defense against incomplete transactions to help increase conversions. It was developed to assist Shopify store owners to install web push alerts for cart abandoners without the need for email lists.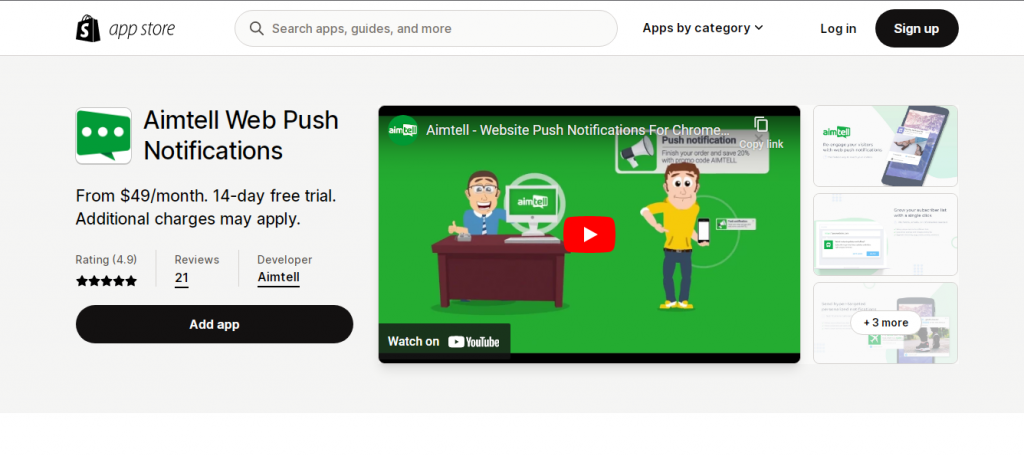 Key features to know about the Shopify plugin WebPush will be used to increase sales in 2023:
enables store owners to instantly send three back-to-back abandoned cart web push notifications with attention-grabbing pre-written phrases.
enables discount widgets (pop-ups) on your website, which potential clients can view by clicking the web push
based on the timing of your online push on the location of your subscribers.
utilizes responsive design for computers, tablets, and smartphones.
Pricing: The first 600 impressions of this app are free. Paid plans with up to 9,000 impressions are available starting at $9 a month.
New to intermediate online sellers are searching for a different strategy besides email to entice cart abandoners to complete the purchase.
11. Engati: Shopify Chatbot
The Shopify plugin Engati can be used as a chatbot to communicate with customers regarding resolving their queries in purchasing, transactions, and an abandoned cart. Isn't it aggravating when people add items to their shopping carts but never actually make a purchase?
By assisting you in converting those customers to your Shopify store, your Engati chatbot goes above and beyond the standard function of chatbots. When customers add things to their cart or carry out other actions that you want them to do, it can cause a promotional message and a discount coupon to appear.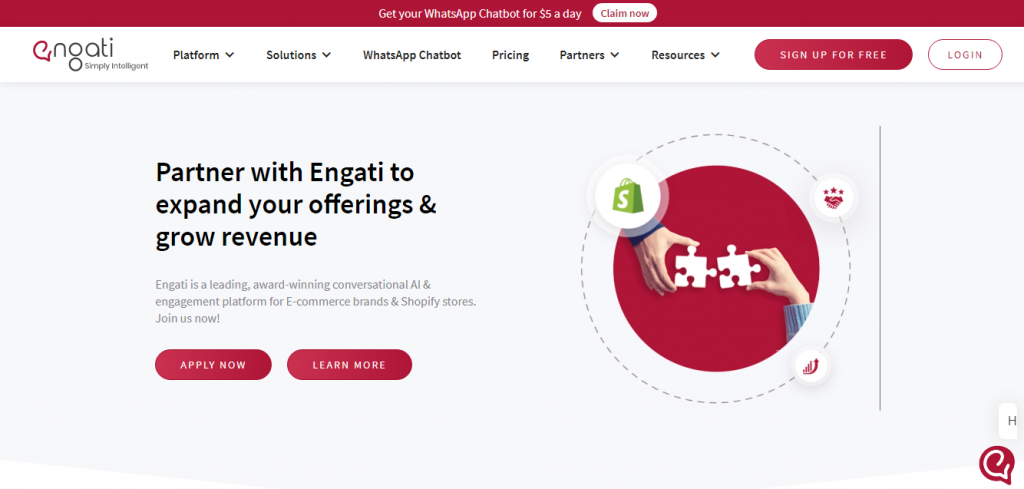 The Key features of the Engati Shopify plugin we will mention below:
Important characteristics: Rather than having to design a bot from scratch, you may choose one that is already built and has e-commerce domain knowledge.
Engage your audience across 10+ channels in 50+ languages, including Instagram, WhatsApp, and Facebook Messenger.
Easily integrates with Google Sheets, Google Calendar, Salesforce, Hubspot, and many more programs, and works well with your current marketing, sales, and support tools.
Use video calling and live chat to add a personal touch.
The Shopify Chatbot from Engati is free for one month. However, if you require more capacity, you can select the appropriate plans.
12. Automizely
An alternative Shopify software for email and SMS marketing is called Automizely. With welcome email templates, automated newsletters abandoned cart emails, and more, it streamlines your email marketing and works flawlessly with the most recent Shopify themes.
Additionally, the app enables you to easily add components to your website, such as trust badges, a shipping bar, and social proof. Essentially, it's a marketing program that can handle all of your eCommerce company's requirements without being as complicated as other tools of a similar nature.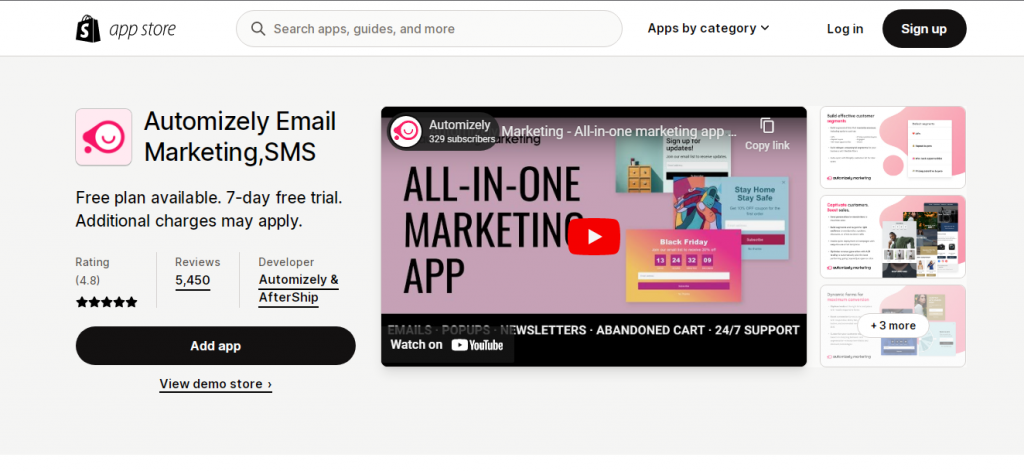 Important characteristics:
Upsell, exit-intent, and cart abandonment popups
Countdown clocks to increase sales
Analytics for your emails, pop-ups, and forms in rich, real-time
For your emails and popups, use a product recommendation widget.
web push notifications for macOS, Windows, and Android
Suitable for
After a customer leaves a website, collect their email and continue communication with them.
Increase conversions with easy-to-use features.
The intermediates can see the clean and straightforward solution
The cost of this Shopify app is $11 a month for 500 contacts on the subscription plan, with a free plan available for up to 300 contacts.
13. Klaviyo
One of the most well-liked email marketing programs among Shopify business owners is Klaviyo. Customers can be targeted with customized emails and text messages using it to segment your consumer base. Automate message sequences like welcome emails, cart abandonment emails, and thank-you emails to save time.
See the success of your email marketing campaign soar when you combine Klaviyo and OptiMonk. Utilize Klaviyo to maintain contact with both clients and prospects and OptiMonk to expand your email list.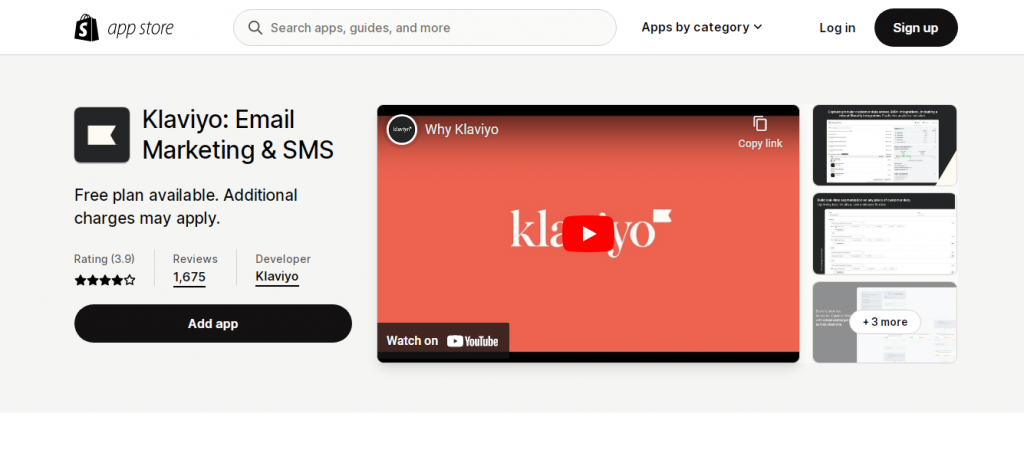 Major features:
The setup wizard allows you to create automated operations without writing any code.
Simple email list segmentation allows you to target visitors according to how they engage with your Shopify store.
offers easy interaction with a variety of well-liked e-commerce technologies, such as Facebook Ads, Zendesk, Smile.io, and OptiMonk.
Price: A free bundle with support for messaging up to 250 contacts is available in the Klaviyo app. Monthly fees for premium services begin at $20.
14. FirePush: Engage With Customers Over Many Platforms
Another Shopify plugin is FirePush which is preferably used to engage customers over multiple platforms. Many e-commerce businesses adopt the omnichannel approach more than email to initiate the conversation with owners through the entire customer journey.
Generally, the traditional marketing approach SMS marketing is a very popular method to connect the users. As compared to other marketing strategies SMS has 98% open and response rates compared to the 20% rate of emails. It shows that customers will read text messages.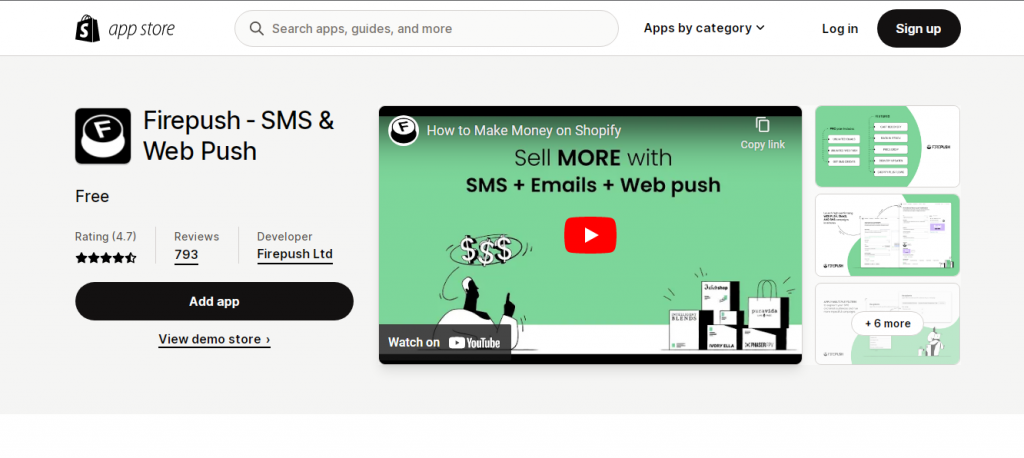 Customers can be contacted via email, SMS, and even web push alerts when utilizing Firepush. Benefit from SMS and email marketing by becoming truly multichannel. Use it to send customized messages to the phones of your clients. Among the things you can accomplish with Firepush are welcome messages, promotions and discount codes, and reminders for abandoned carts.
To know the details about this Shopify plugin please go through its features of it:
Use web push alerts, automated SMS, and email to reach your customers at the ideal time.
Pick from a collection of simple-to-use templates and start your campaign right away.
Integrating Firepush with the OptiMonk app and other well-liked lead-generating resources can help you expand your marketing list and boost your conversion rate.
Pricing: A free plan with 100 web push alerts per month is available from Firepush. With the basic package, you can access SMS and email marketing campaigns for $15 per month.
15. Omnisend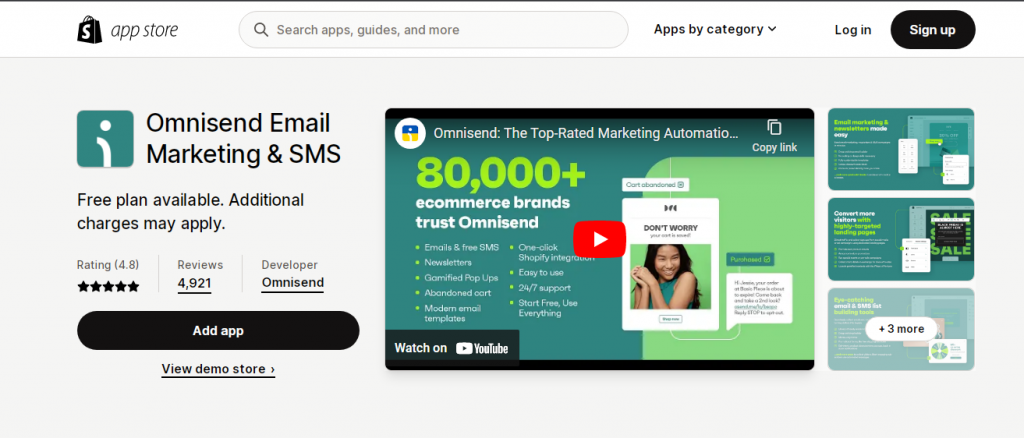 Being a potent marketing tool for maintaining contact with your customers, Omnisend markets itself as such. Yet it accomplishes a lot more than that.
Read More: How To Send A Formal Message On WhatsApp?
Consider it a full communication platform where you may improve your customer experience by utilizing various communication channels.
Send automatic messages to consumers via Facebook Messenger, SMS, email, push notifications, and Omnisend. Omnisend makes workflow creation quick and simple. To connect with customers for customer care concerns, abandoned cart notifications, product updates, and anything else you can think of, you don't need any programming experience.
The key features of it:
Use the pre-built workflow in Omni Send to quickly automate your campaigns. Or create a brand-new one that is tailored just for your online store.
To generate visually stunning emails, use the newsletter builder's drag-and-drop interface.
Use the analytics and customer segmentation tools provided by Omnisend to determine the best approach to engage with customers.
Price: New clients receive a 14-day free trial to test out the app's unlocked edition. 15,000 free emails are included in Omnisend's free plan per month. Monthly premium subscriptions begin at $16.
Frequently Asked Questions
Q. How can I drive more sales to Shopify?
A. There are many top most Shopify plugins available online. One of them is GetItSMS to send bulk WhatsApp messages to customers. You'll get to know how to use them to boost sales, generate leads, and provide a fantastic customer experience.
Q. Are Shopify plugins beneficial?
A. The rapid expansion of Shopify has made creating apps for the system a very lucrative industry. There are more than 2,500 different plugins for retailers in the Shopify app store, many of which are best sellers. For this reason, you ought to try to put your app idea into action.
Q. Why is GetItSMS the best Shopify plugin for the e-commerce business?
A. GetItSMS is one of the top must-have Shopify plugins for Bulk WhatsApp marketing and bulk WhatsApp messages can be used to increase sales in 2023. Using the GetItSMS bulk WhatsApp Shopify plugin is specifically designed to send bulk WhatsApp messages to customers to notify them about their purchases and product details.
Q. Are Shopify plugins necessary for the online business?
A. Particularly useful for boosting consumer engagement, boosting sales, and bringing in more money are the Shopify plugins. Following that, I'll include my top 10 picks for Shopify plugins that will help you optimize your online store.
Q. How can we bring customers to our Shopify store?
A. Make use of paid social media advertising, and Facebook advertising. Through influencer marketing, you may connect with new audiences. Use content marketing to attract clients. Build blogs to discuss concerns or to share expertise. Use SEO to increase visibility for your store.
Summing It up
Online marketing and businesses provide great opportunities for a brand to grow and prosper. And to make the most out of the opportunities, you need some smart strategies and tools. The tools mentioned above are best in businesses and provide great aid to brands in getting business goals.
You can go with GetItSMS, one of the best Shopify plugins to send WhatsApp Bulk messages to store customers. This will help them to let them know about the order placed, confirmation, and other new stock launch details.
It's challenging to keep up with the pace of business. Many Shopify store owners lack the time and funds necessary to scale their sales and marketing teams to keep up with client demand.
You should be able to revamp your campaigns using these technologies without having to pay for the employment and training of new personnel. By doing this, you may boost your company's profitability without having to deal with the growing pains that come with expanding your Shopify operation.
Moreover, be sure to read our article on the top five popups for your Shopify store. You'll discover how to use them to boost sales, generate leads, and provide a fantastic customer experience.
Also Read: Self And Appraisal Review Of Product Manager