Instagram walls are becoming increasingly popular and for a good reason! They offer a variety of benefits that can be highly beneficial for businesses and organizations.
Businesses and organizations can use Instagram Walls to show off their work, connect with customers and followers, and create a more engaging and interactive experience for visitors.
Let's discuss all these benefits in detail in the later section but first, let's understand Instagram Wall!
What is an Instagram wall?
An Instagram wall is a brilliant real-time representation of user-generated content posted on Instagram by people on digital screens. User-generated content is texts, photos, and videos.
An Instagram wall can be used across multiple marketing touchpoints, such as e-commerce stores, websites, email campaigns, events, etc.
Benefits of using an Instagram wall
Let's get into the benefits of an Instagram wall. There are multiple, but we will understand each one in detail.
● Brings UGC into promotions
At this time, social media marketing is widely acknowledged as the most essential and most effective kind of marketing. And the finest available content that can be used in marketing plans is user-generated content.
Instagram has a large active audience with interesting visual user-generated content. Bringing it all together and displaying it on a single wall will help attract engagement from the audience.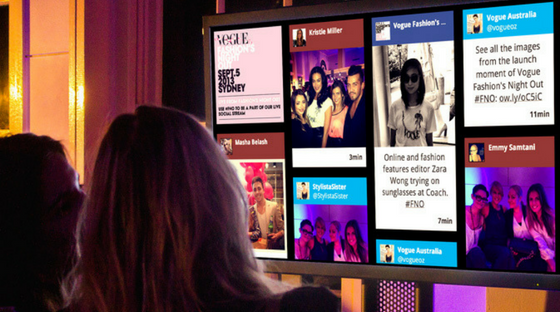 Having user-generated content will aid in the development of a stronger brand image through social proof. It also promotes community building and brand loyalty while providing free marketing content.
● Increases your Instagram followers
Instagram is crucial in today's digital marketing as a social media platform. A brand's sales are directly proportionate to the amount of Instagram followers it has.
An Instagram wall can be used in one of two ways: on a large digital screen at an event or by integrating it on your website. In either case, new people will see your brand's Instagram account. This directs them to your Instagram profile, allowing you to reach a wider audience and gain more followers.
● Enhances brand's reach
Installing Instagram walls at an event is a terrific way to broaden your brand's reach. These walls can be used in various interactive ways to increase the participation of your event attendees' visitors and show visual content.
You can set up competitions on these walls, such as a quiz contest, to encourage people to join. People enthusiastically participate in such events since they all prefer to win. Your brand is immediately exposed to its Instagram followers when they begin publishing their replies using a branded hashtag given by you. As a result, your brand becomes extremely prominent in just a few hours.
● Authentic & fresh content in real-time
For customers to engage with and be inspired by content on social media, it must be original, unique, and stunning. Instagram walls automatically collect new content from Instagram in real-time.
Because customers seek the latest content from social media, displaying such real-time content to the audience encourages them to participate more in your campaign.
And because engagement is inversely proportional to conversions, the highest levels of engagement will result in the highest conversions. As a result, it will provide significant returns on investment.
● Offers insights about your audience
Various systems for aggregating and creating the Instagram wall include analytics features for tracking and evaluating the actual user-generated content.
This analytics tool is crucial for marketers since it allows you to track the performance of your Instagram wall and your social media campaigns. Impressions, clicks, interaction, analysis, and much more may be tracked.
It will provide helpful information on customer behavior and engagement. For example, you may look at which content fared the best and the most popular hashtags, user engagement, and other information.
These discoveries will aid in creating and implementing future social media marketing campaigns and promotions.
● Helps build brand authenticity
By engaging through an Instagram wall, brands can develop trust with potential customers, partners, and employees. This is especially true if other individuals spread the word about your business or products. In addition, family and friends are almost three times more likely than official brand channels to be trusted with advice or suggestions.
● Integrates digital media with offline events
Event marketers and managers use many techniques and technologies to entertain and engage the audience in the event; however, most of them are only partially effective.
Instagram hashtag wall allows you to take your potential to a whole new level by connecting digital media platforms, allowing you to collaborate and sell on two distinct channels without investing much money.
Wrapping Up!
If you're looking for a way to make your Instagram content more interactive, consider using an Instagram wall. For example, an Instagram wall can display your latest posts or let users submit photos and videos.
Create a brilliant Instagram wall using Taggbox! Taggbox has been meeting the needs of its customers through its brilliant customization, moderation and personalization features. Get your Instagram wall created in minutes through Taggbox!